No questions asked, full refund for dissatisfaction after your initial consultation.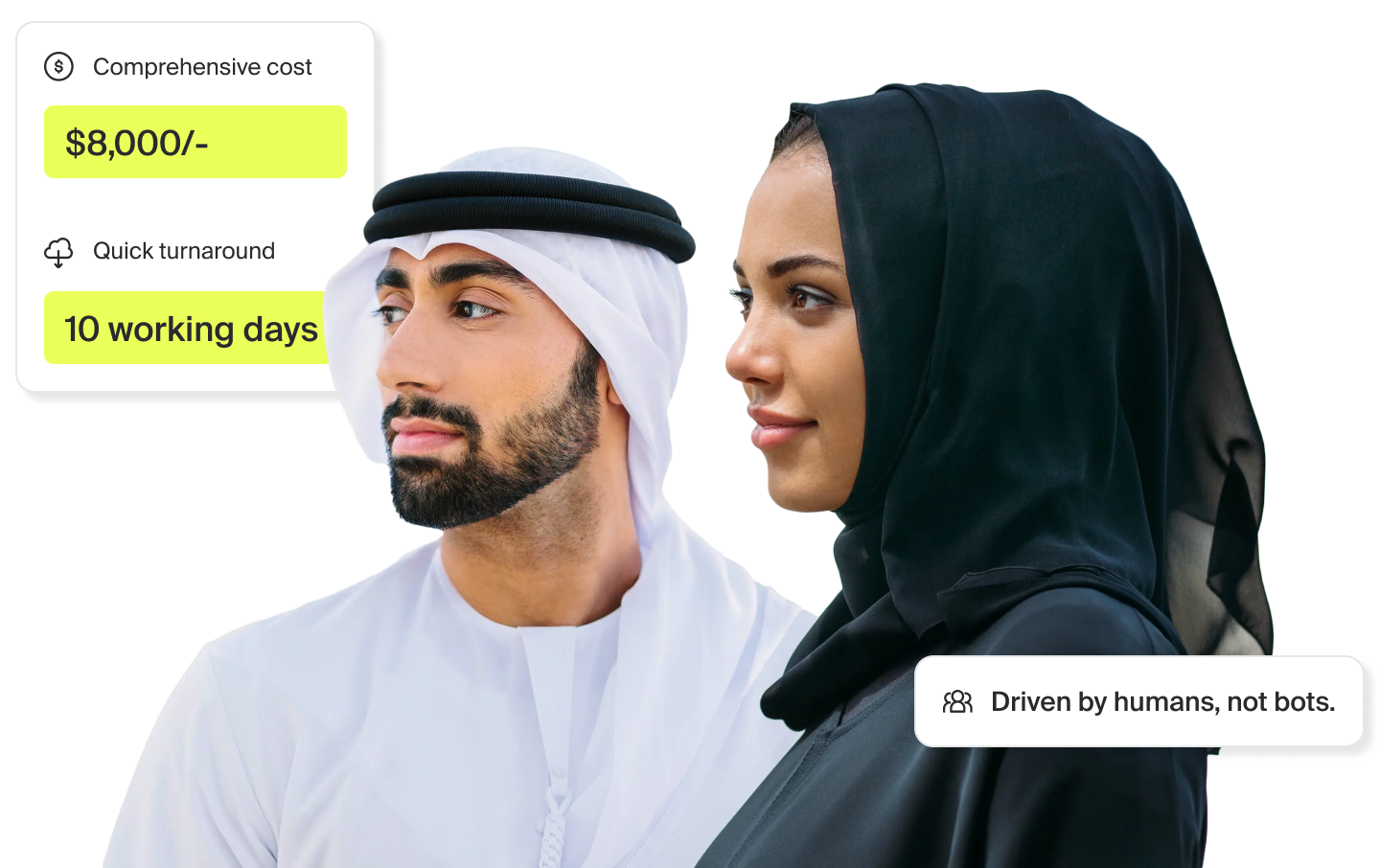 Inside the deliverable
Included in the business valuation report
The executive summary encapsulates the entirety of the report, providing a concise overview of the company's profile, project background, pertinent macroeconomic influences, industry insights, comprehensive financial analysis, and the derived business valuation.
Company and Project Overview
The company introduction section will encompass a brief profile encompassing details about the company's products, services, value proposition, target customers, business model, and revenue streams, as well as providing information regarding the project background, objectives, scope, and overall process.
In the macroeconomic analysis section, we will conduct an assessment of crucial macroeconomic factors that impact valuation, including GDP growth, inflation, interest rates, fiscal policy, regulatory landscape, and other pertinent indicators specific to the company's industry and markets.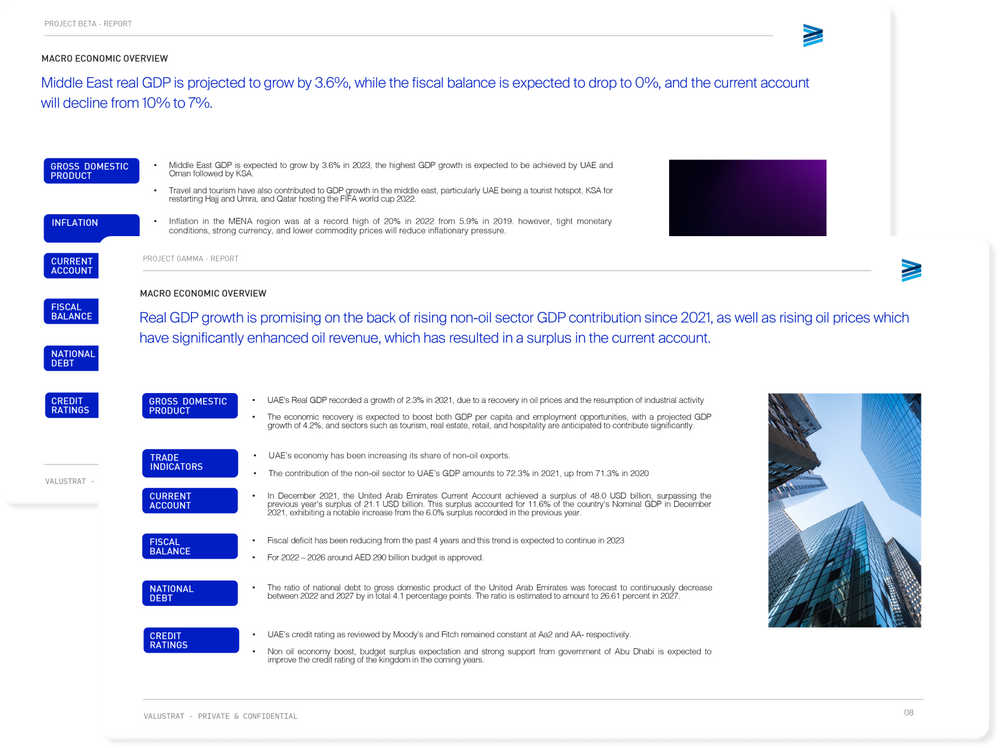 In this section, we will delve into market intelligence, encompassing market size evaluation, tracking industry trends, and assessing future potential. This process will provide valuable insights into industry risks, deconstruct competitive forces shaping the market landscape, and examine key industry players.

Through rigorous analysis, we will offer a comprehensive benchmarking of the company against its competitors across various aspects such as products, services, customer base, pricing strategies, distribution channels, and unique differentiators.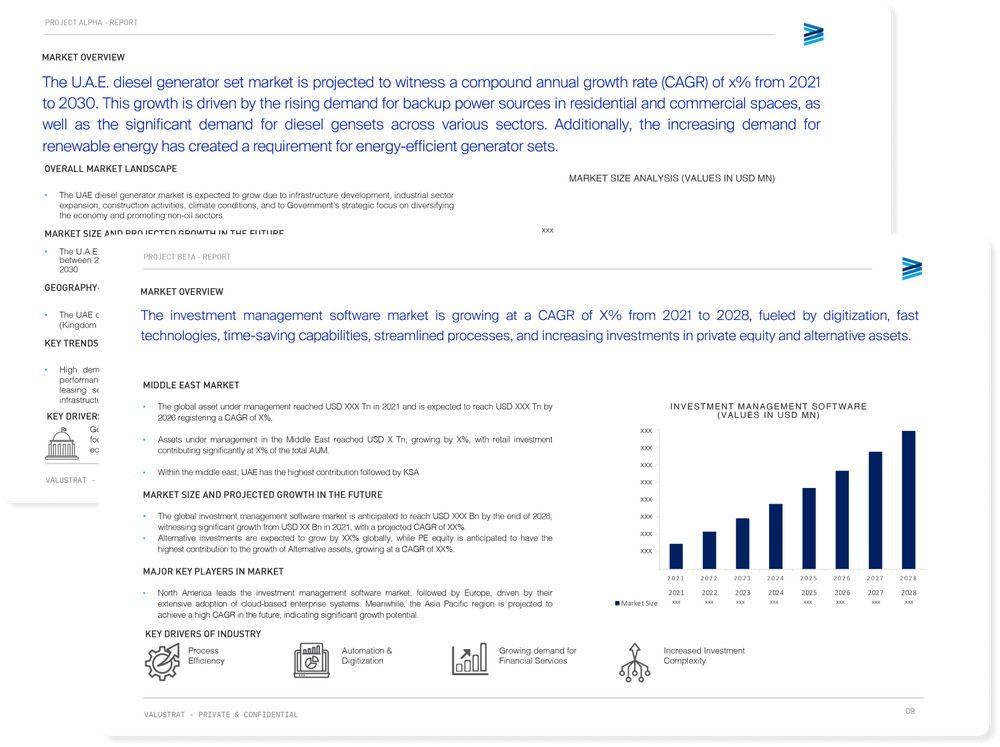 In the financial analysis section, a comprehensive evaluation will be conducted, encompassing a detailed review of historical financial performance, an in-depth analysis of growth catalysts, assessment of key operating metrics, projection forecasting, and the identification of pivotal value drivers.
Within the business valuation section, we will employ established methodologies such as DCF (Discounted Cash Flow), comparable company analysis, and precedent transactions, meticulously tailored to the company's specifics. This will result in a presentation of valuation ranges, supported by visually presented sensitivity analyses, comprehensive ratio assessments, and insights into underlying growth assumptions.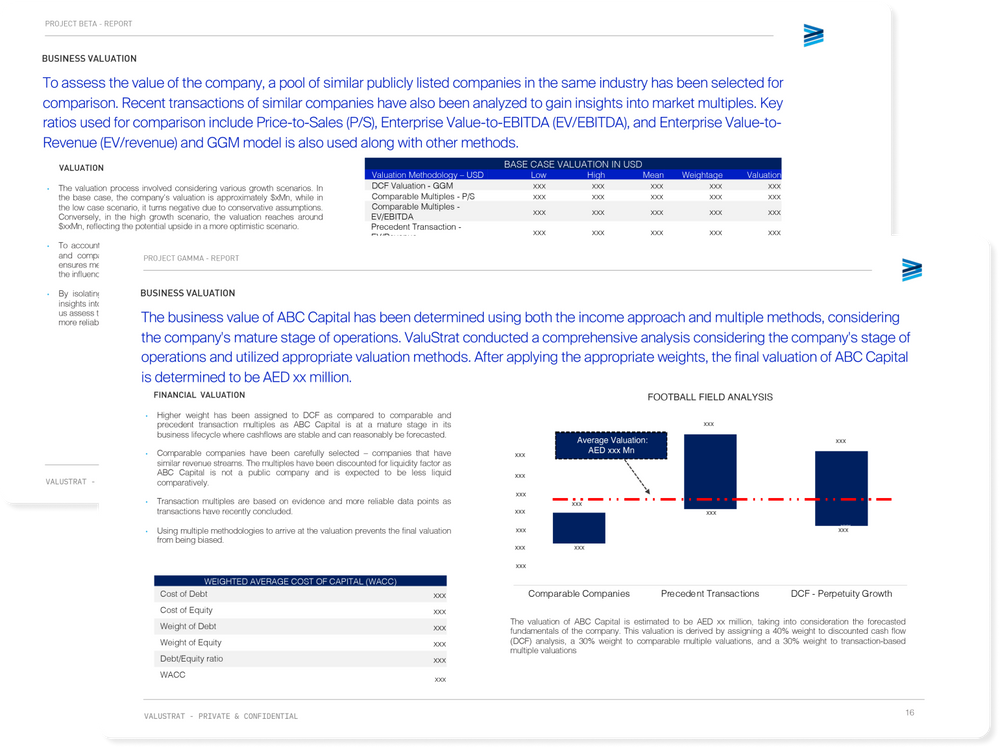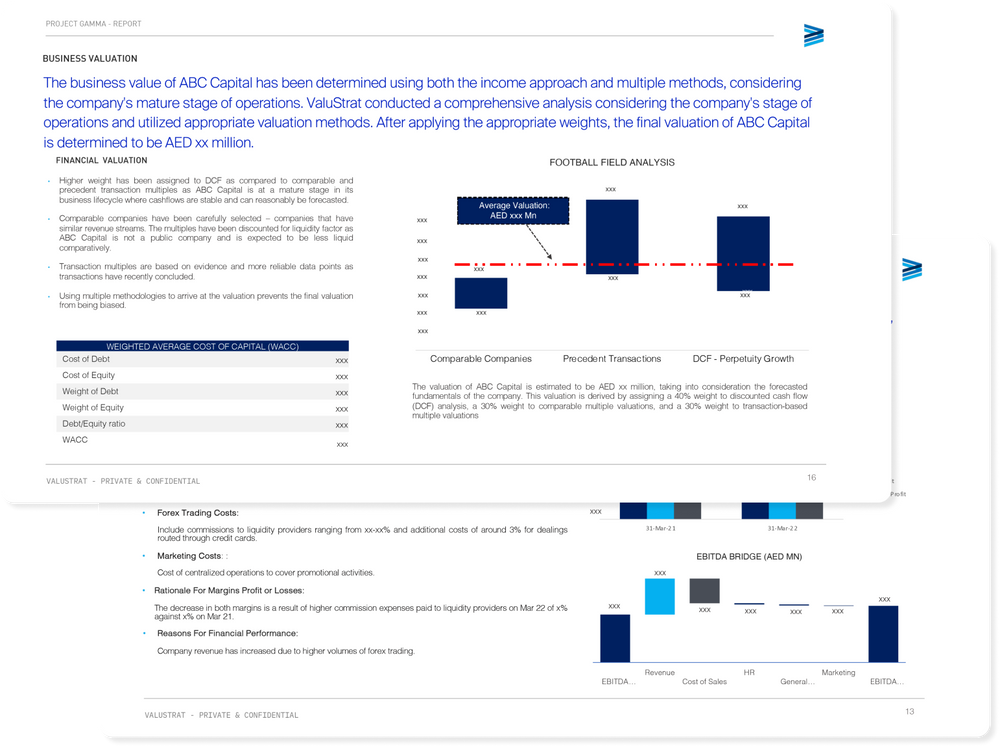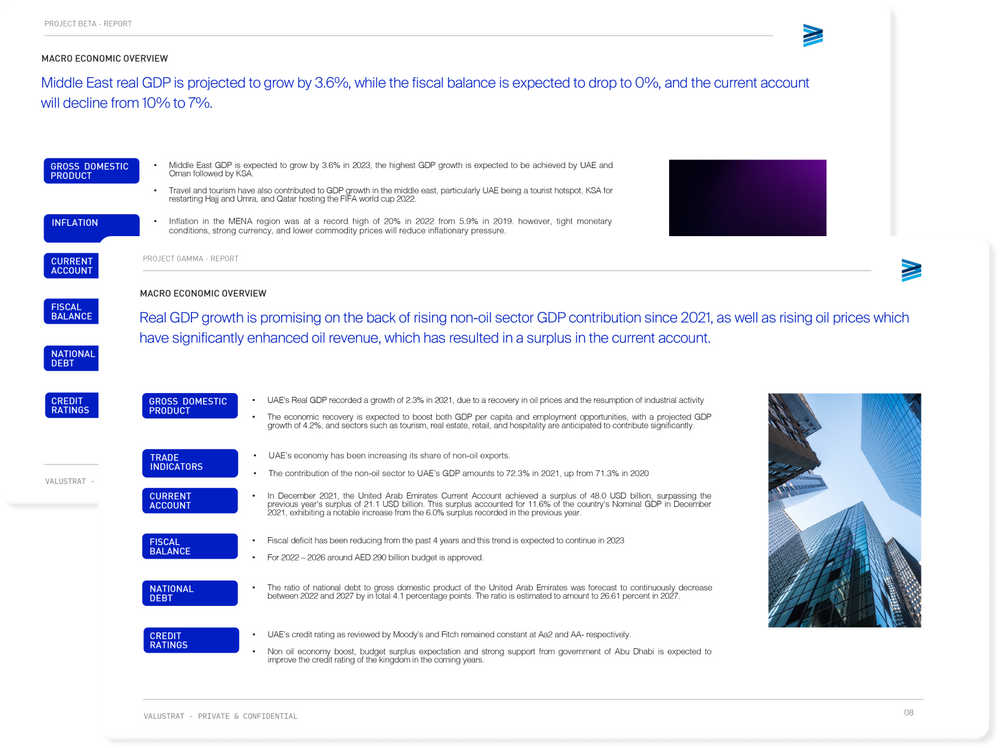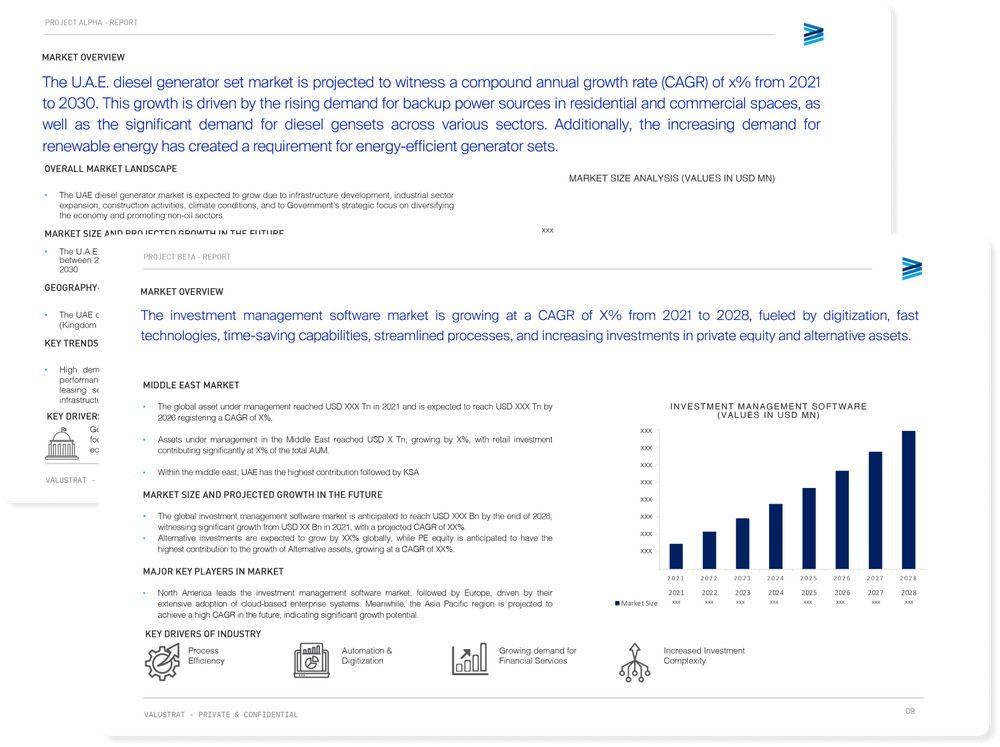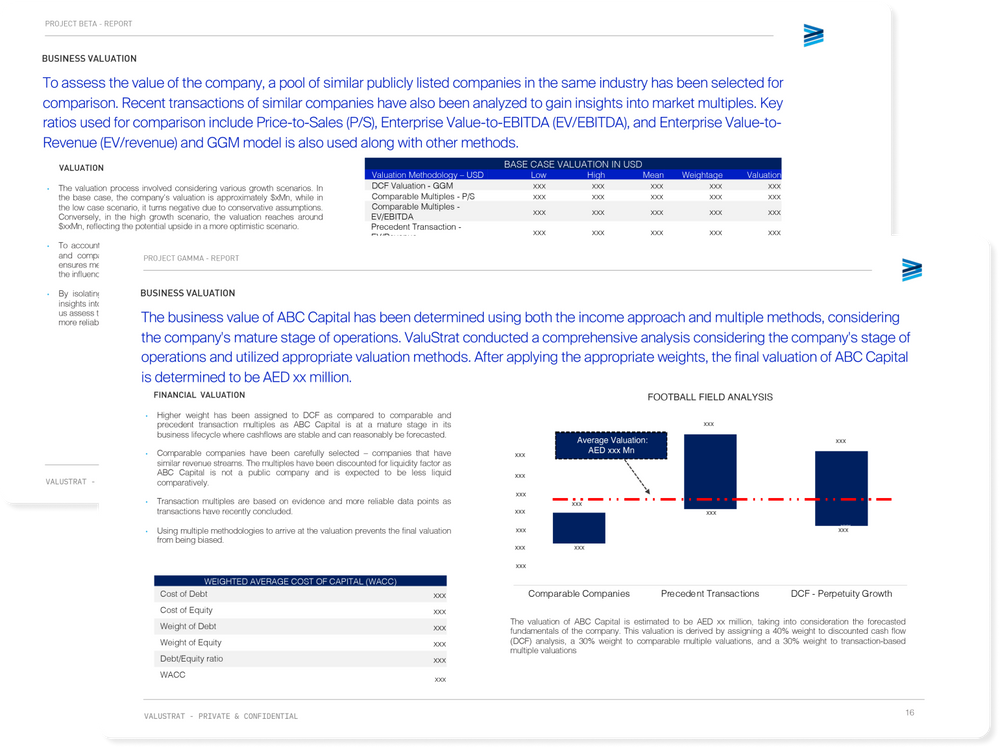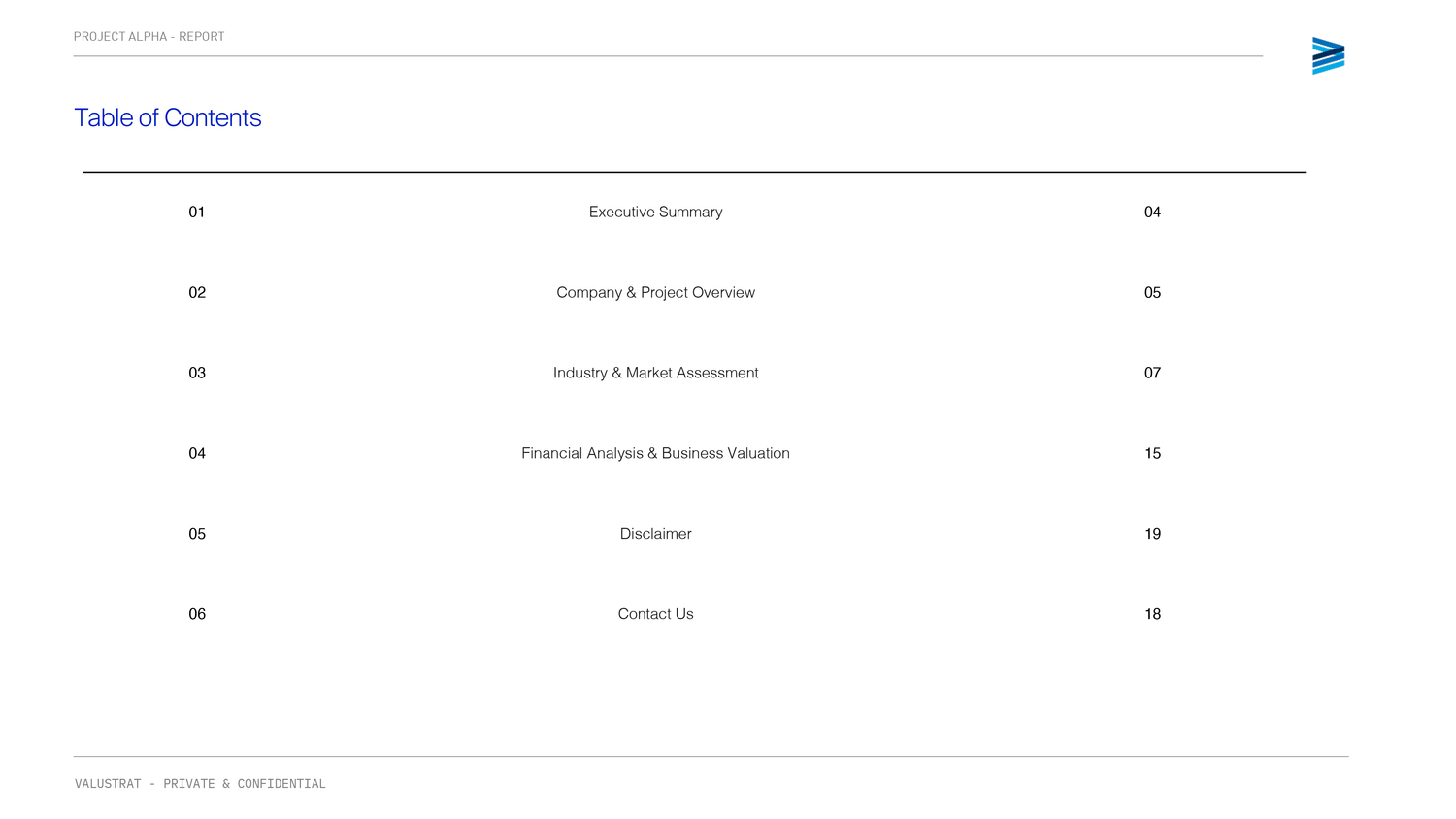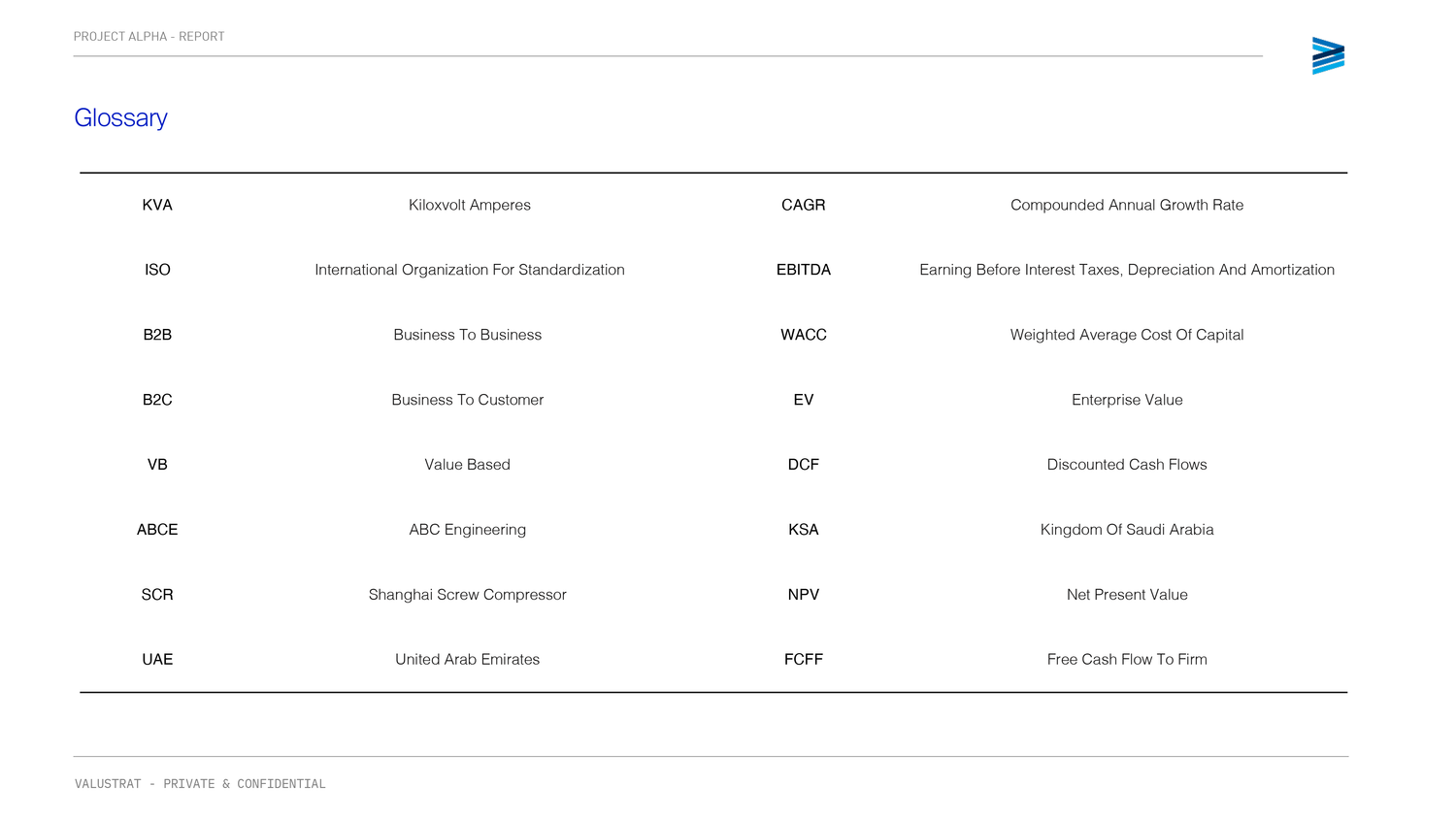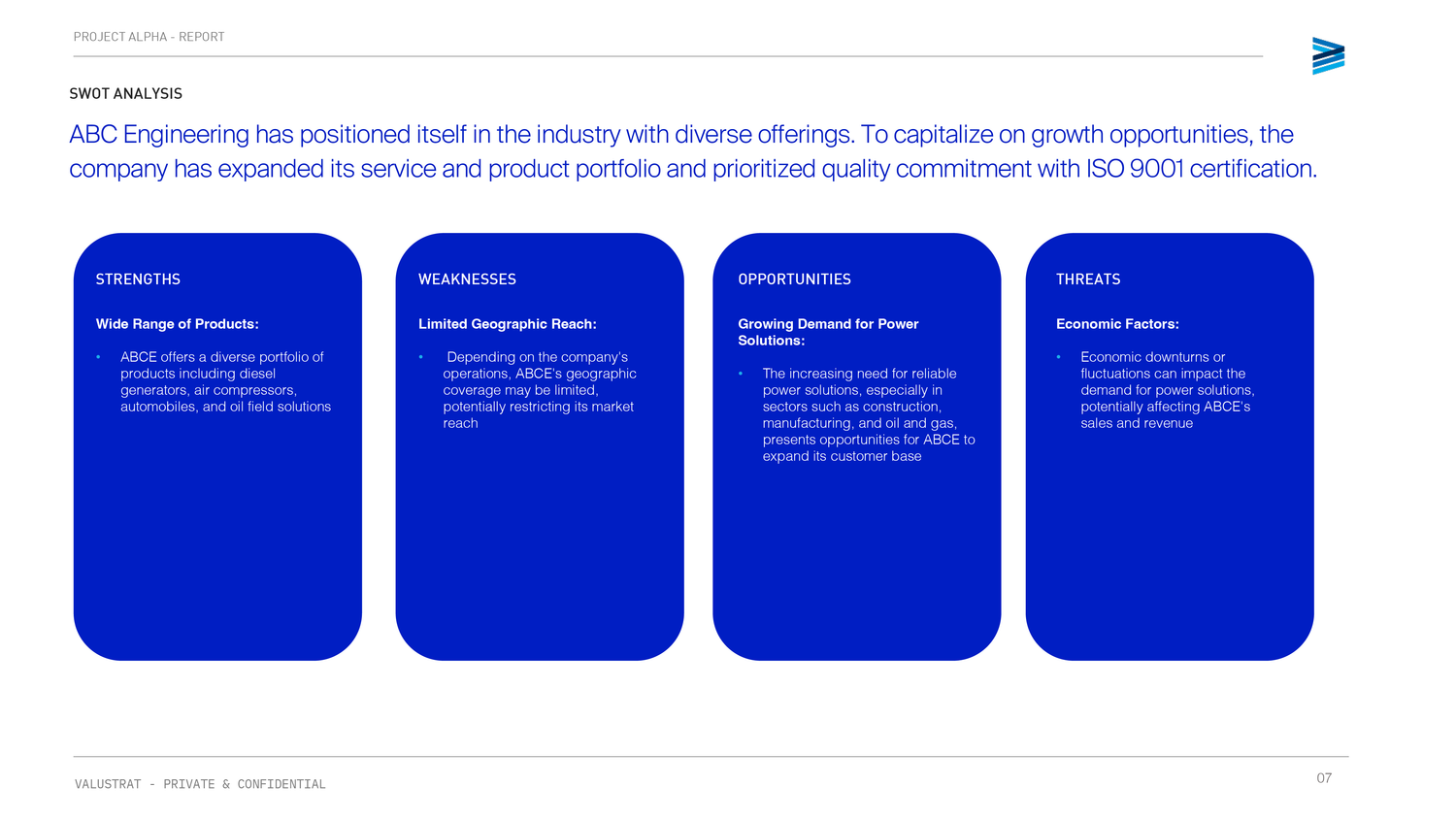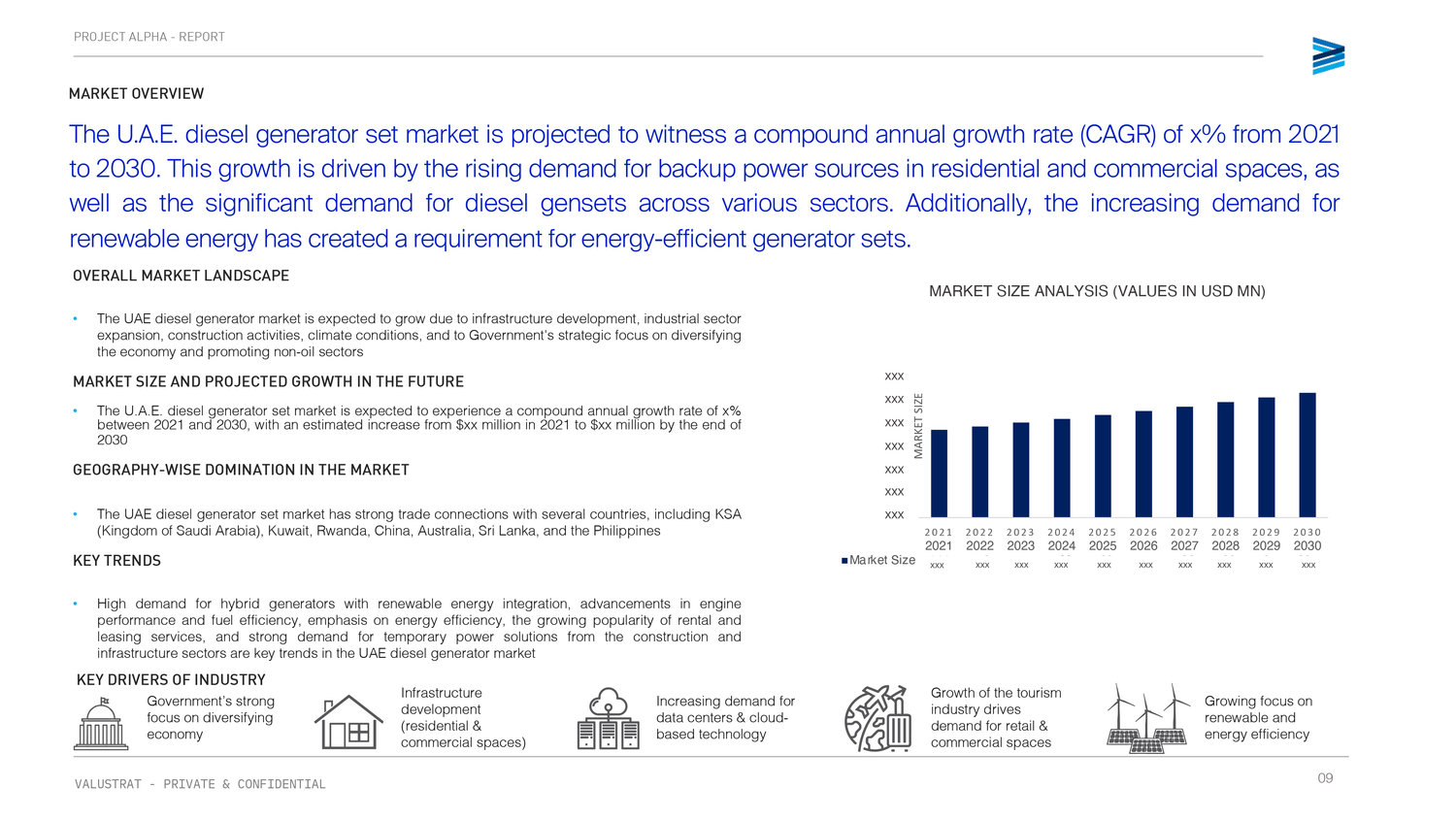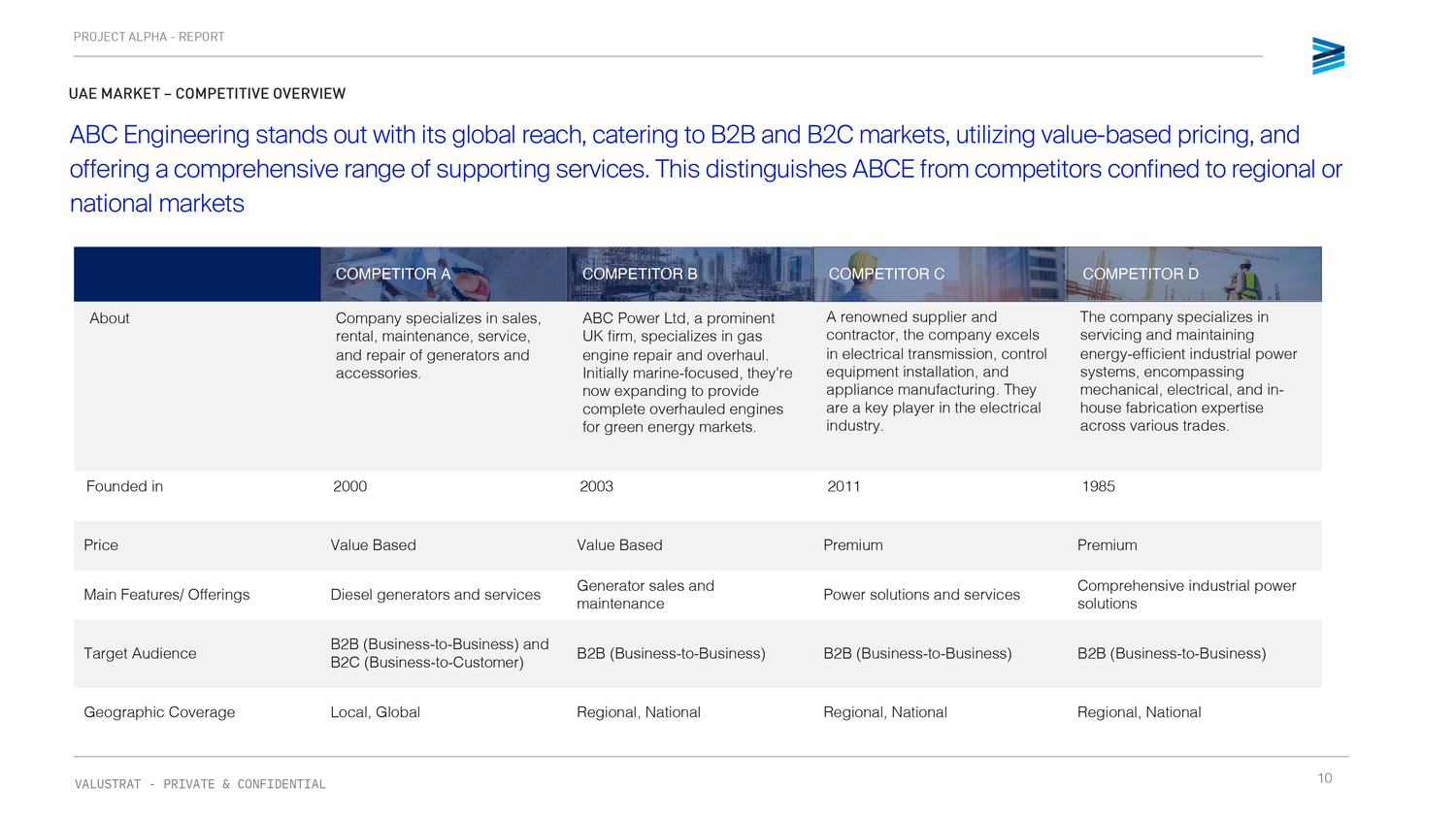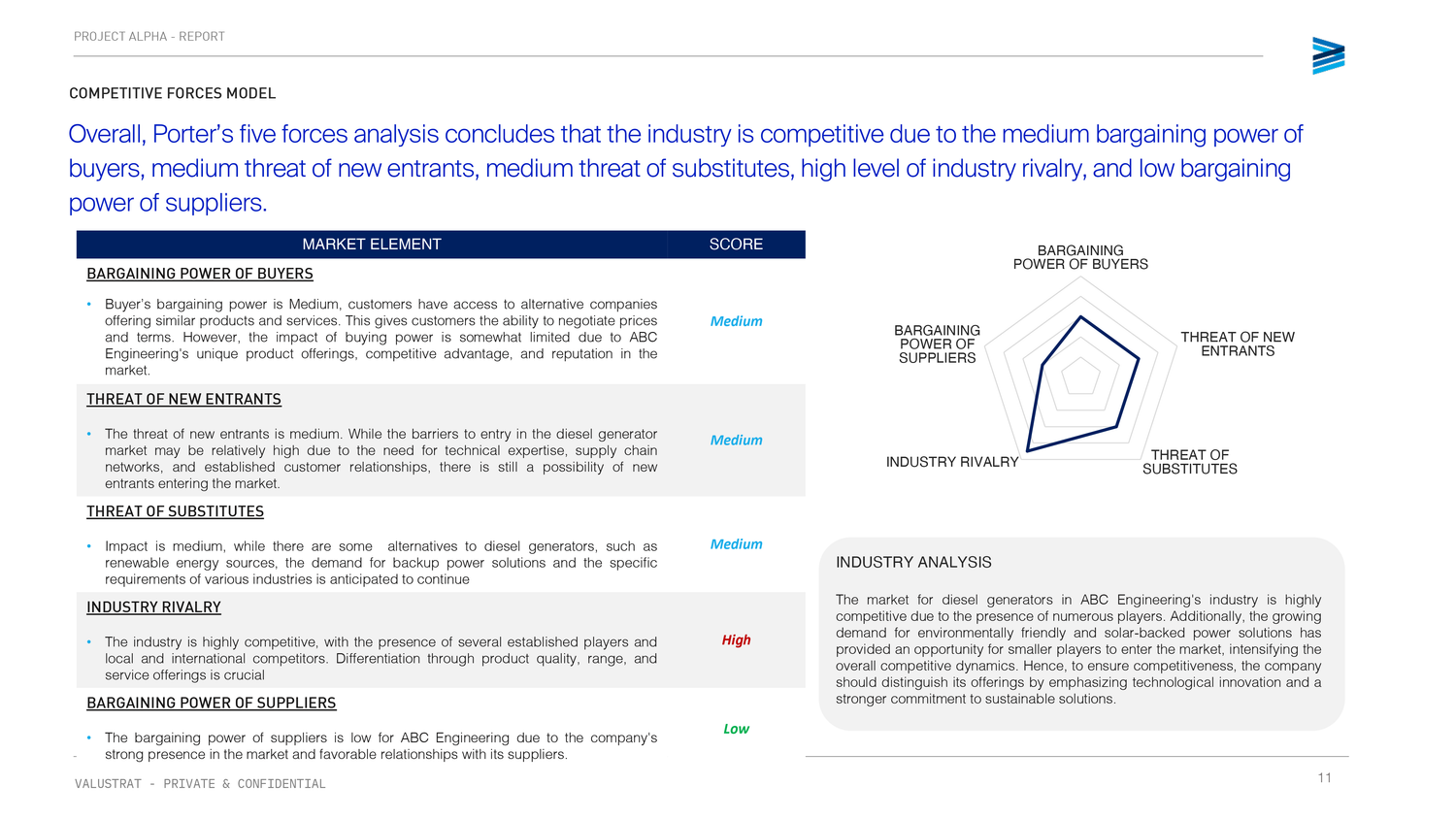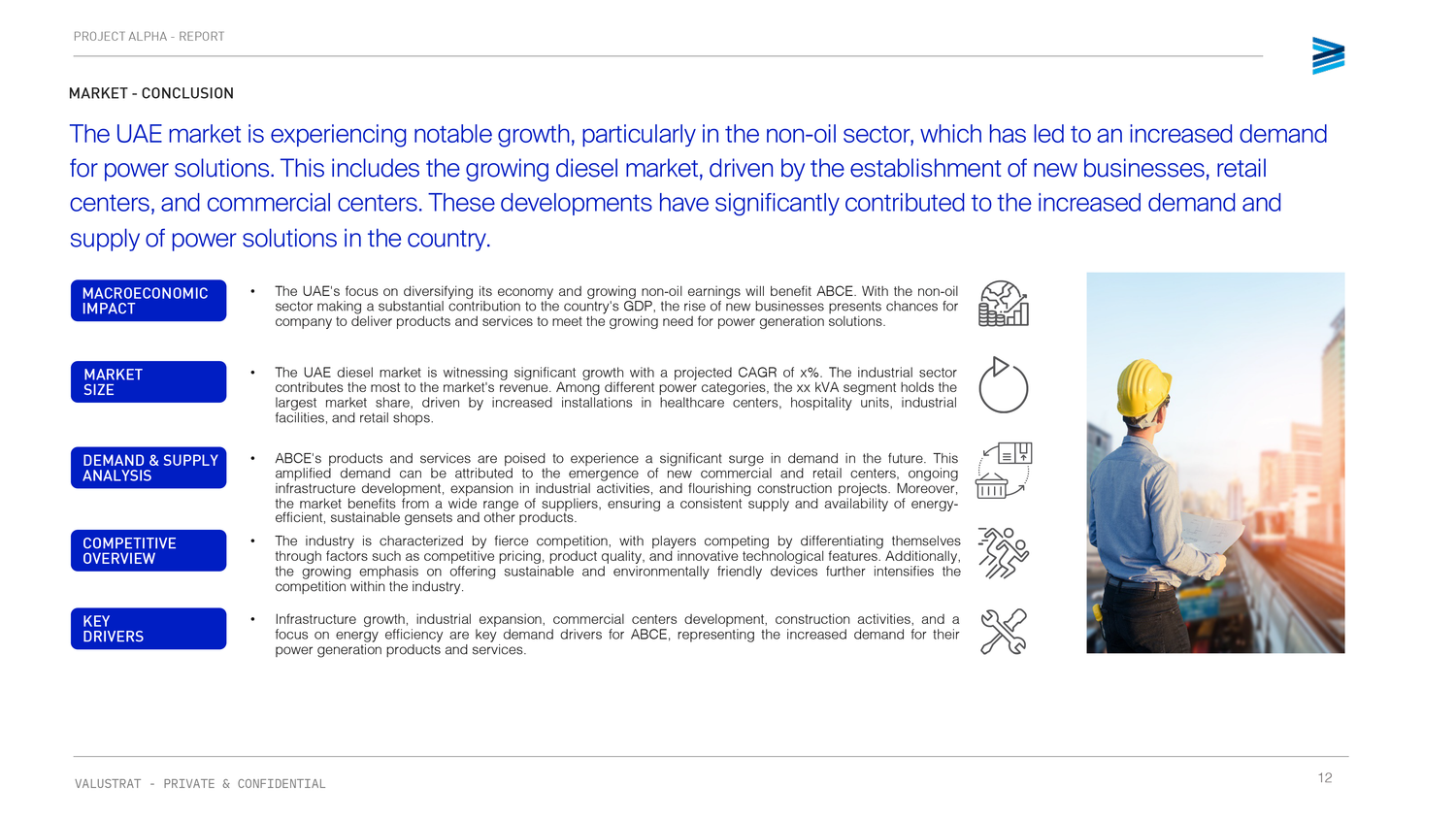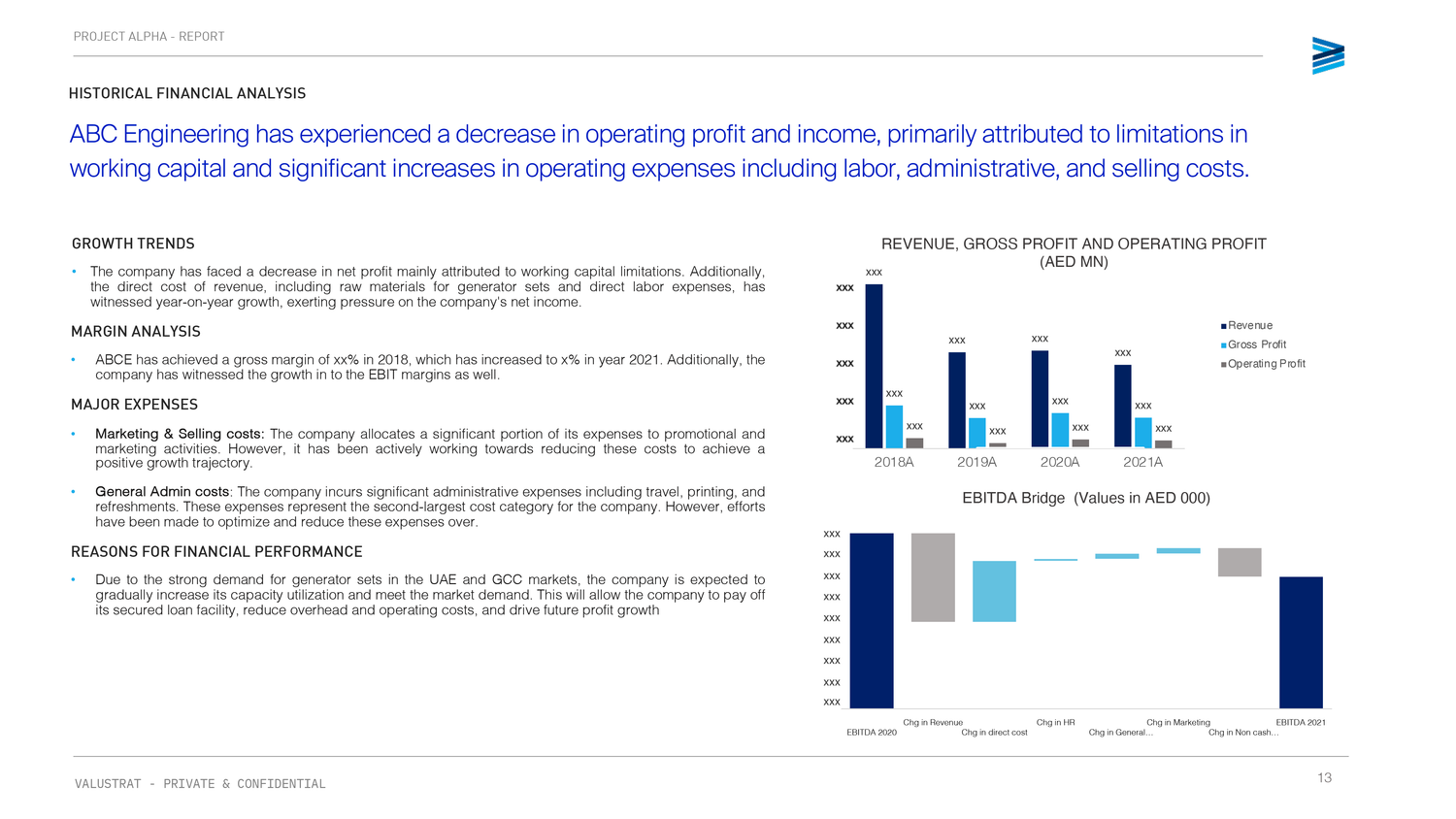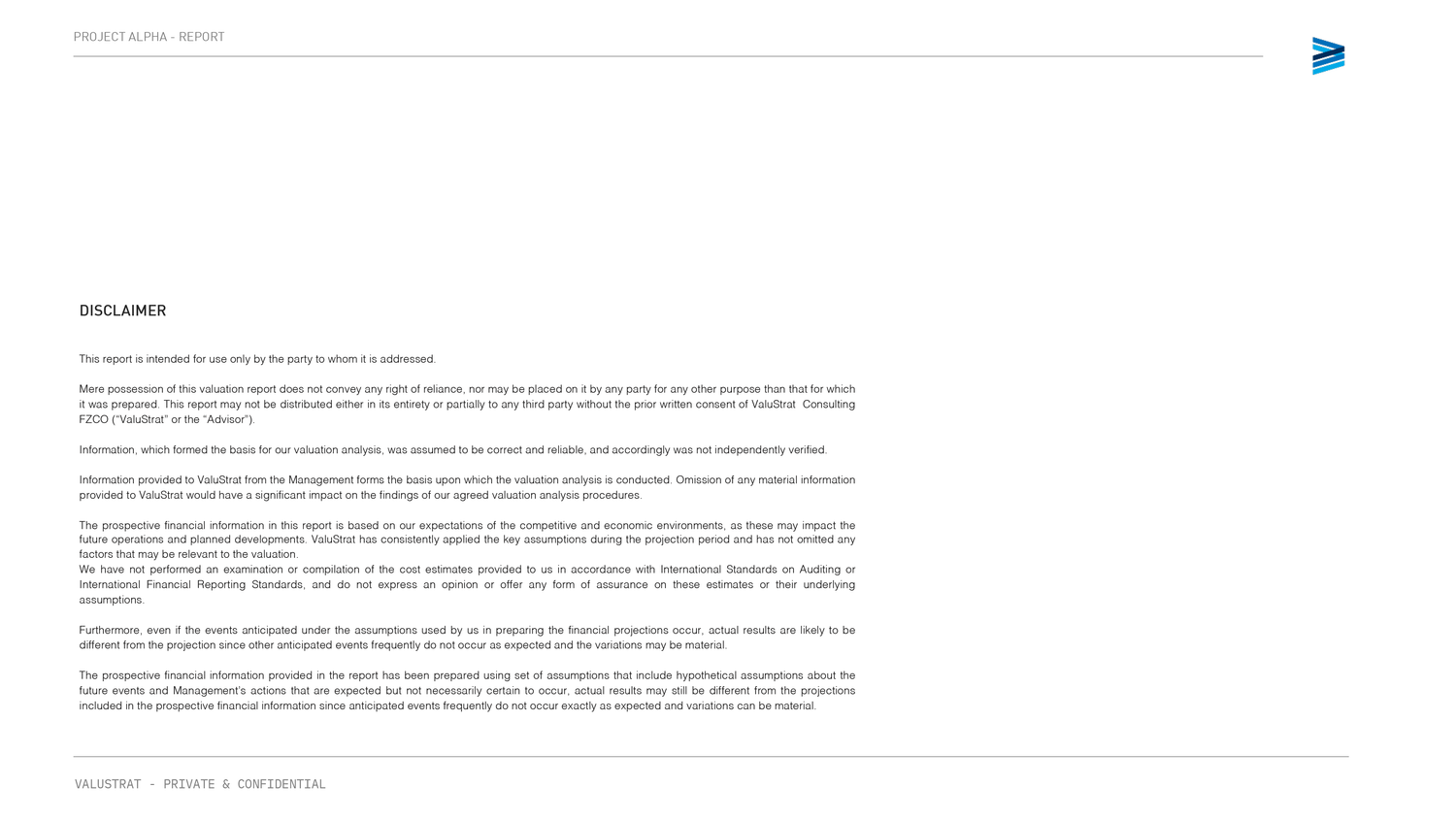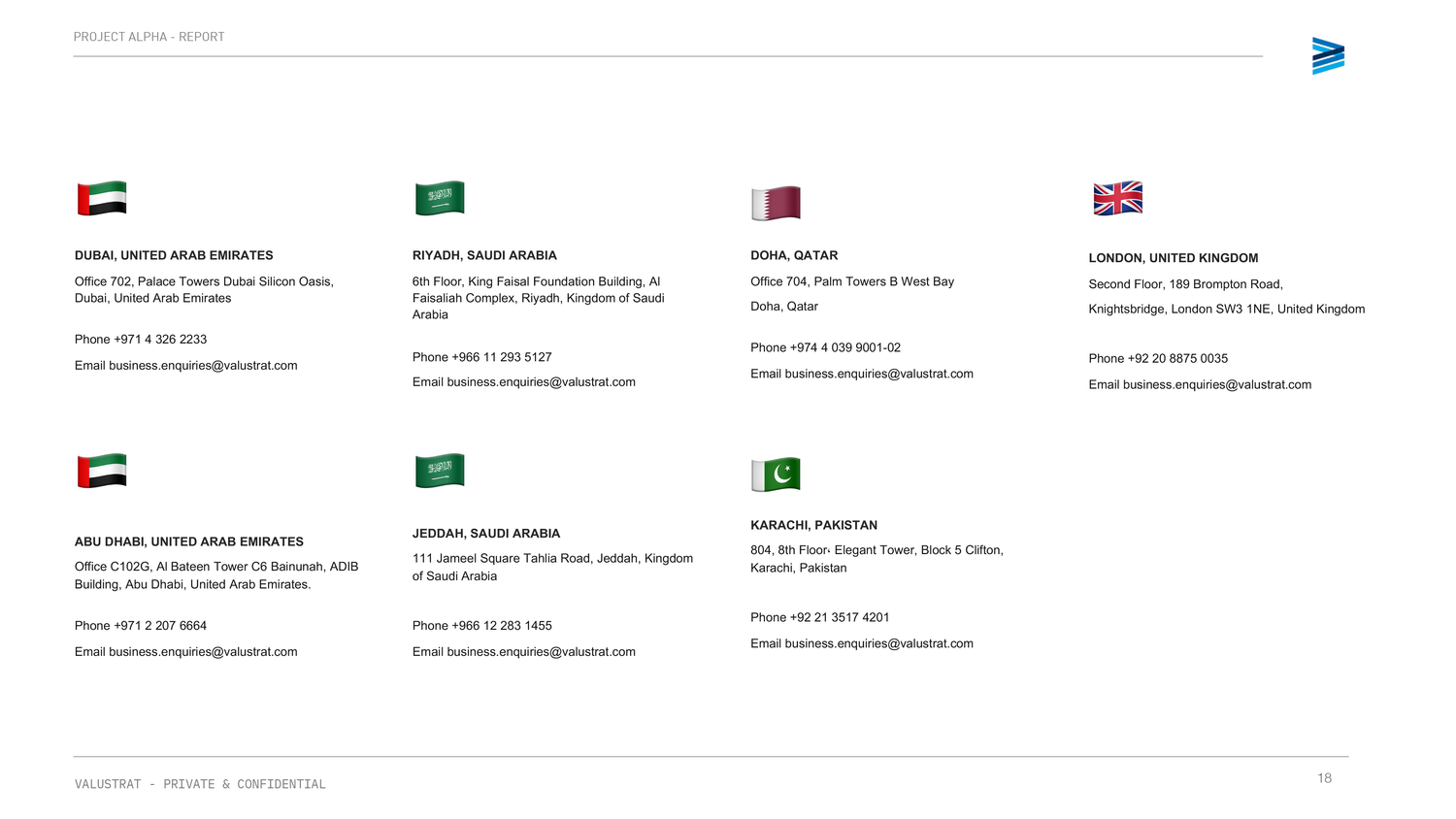 ⚙️ Manufacturing
🖥️ Technology
💰 Finance
What's inside our business valuation reports
We cater to more than 15 industry sectors. Select from a few of these examples to take a detailed look at what's inside.
What we offer
Value propositions
Review Before Finalizing:
You will get a chance to review the draft report once before it is finalized to ensure alignment.
Strategic Business Insights:
Our valuation reports provide insights beyond just a number, including market landscape, competition analysis, and future growth directions.
Expert Guidance:
Interact directly with our senior analysts who evaluate complex qualitative factors using experience and judgment.
Custom Business Valuation:
We provide a valuation fully customized and bespoke for your specific business using suitable methodologies.
Strategic Decision-Making:
Use our reports for investment analysis, transactions, financial reporting, investor pitches, partnership agreements and other key decisions.
Cost Effective Pricing:
Our comprehensive valuation report comes at a price of USD 8,000 that provides maximum value.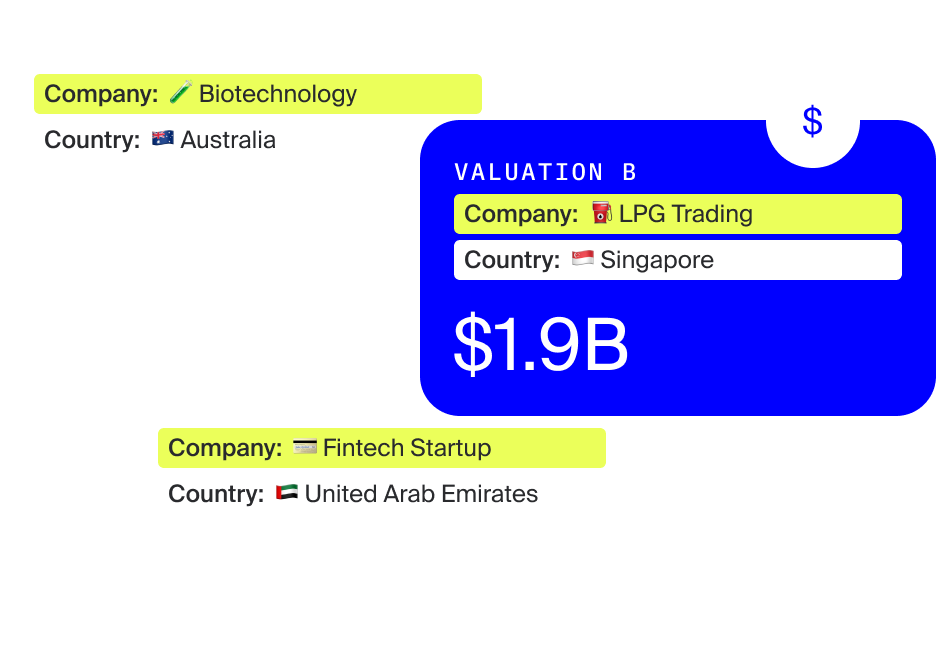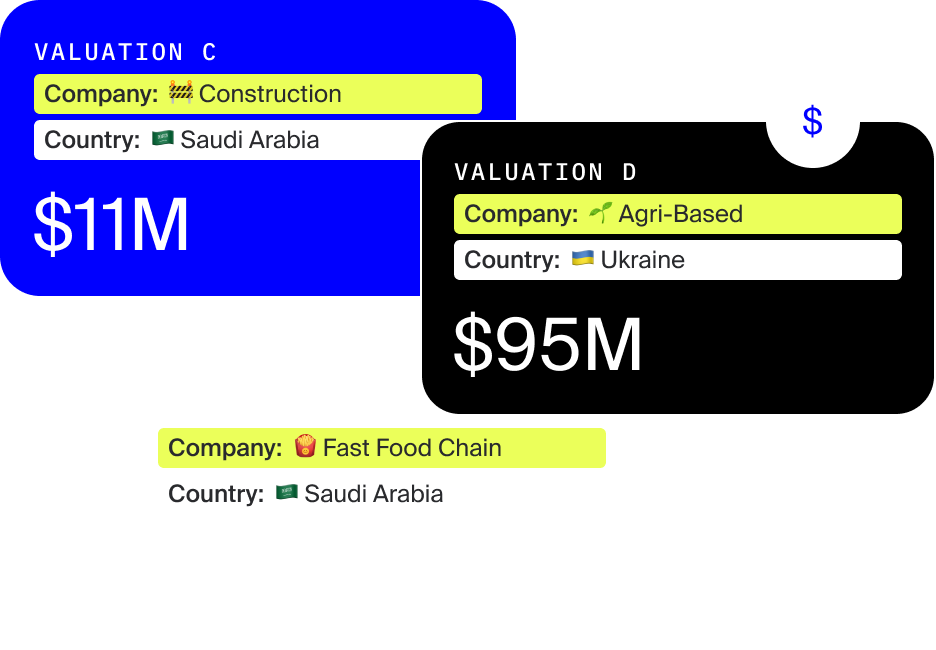 Our journey in business valuations
150+
Business valuations completed
Our services are backed by decades of experience
46 years
ValuStrat's first office in the UAE was established in 1977.
120 people
We have highly professional teams with significant past experience in multinational firms.
15 sectors
ValuStrat consistently serves as a strategic advisor to a diverse range of clients, guiding them through pivotal projects across varied sectors.
13 offices
We have offices in Dubai, Abu Dhabi, Riyadh, Jeddah, Doha, Karachi and London.
30K reports
Our team handle a significant annual volume of Business Valuations, Real Estate Valuations, Industrial Valuations and Due Diligence surveys and reports.
Frequently asked questions
What types of businesses can be valued?
Our platform can value most types of small and medium businesses across different industries and sectors with revenue of less than or equal to USD 5 Mn. This includes manufacturing, retail, technology, services, distribution, healthcare, construction and more. If your business generates revenue of more than USD 5 Mn, please reach out to us for our customized business valuation service at business.enquiries@valustrat.com.
What information do you need to prepare a valuation report?
We will require details like company financials, operational metrics, organizational structure, business model, industry landscape, and other qualitative aspects. Our analysts will discuss the specific requirements with you.
How long would it take to complete a valuation?
Our standard turnaround time is 10 working days post receipt of requisite information from the client.
What valuation methodologies do you use?
We use proven methodologies like Discounted Cash Flow, Comparable Transactions, Precedent Transactions and Trading Multiples in accordance with global valuation standards. The approach is customized for every engagement based on the company size and type; the suitable methodology is used.
Do you offer sample reports?
Yes, sample reports across different industries including manufacturing, Tech and Financial sector are available. This helps you understand the depth of analysis and insights provided in our valuation report.
What formats are the reports provided in?
The business valuation report is delivered in PDF format.
Do you have qualified analysts?
Our team comprises experienced CFAs, CAs, ACCAs, MBAs and industry experts certified in valuation.
What is the process after I order a report?
Once you place the order, we will schedule a kick-off meeting with you to initiate the engagement. This meeting allows us to fully understand your business, requirements, and objectives for the valuation.
How can I pay for your services?
We accept all major credit cards, bank transfers, PayPal. Invoices are generated upfront with clear payment terms indicated.
Do you cater to international clients?
Absolutely, we have valued businesses across the globe. Our team has experience working with clients internationally.
We understand the sensitive nature of the information you will share with us. Confidentiality clause is covered in the terms and conditions you will be required to go through.
Do you provide post-engagement support?
Yes, we offer advisory services after report submission to help interpret and apply the valuation insights for your needs. For 7 days after delivery, you have complimentary access to the analyst for any queries or guidance related to the report. We are committed to making the valuation truly impactful for your business.
Testimonials
What our clients say
"Very satisfied with their service. Professional and the report was submitted on time."
Adham Basiouny
"One of the leading advisory and valuation companies in the region."
Jhin Skyworth
"The most outstanding market analysis."
Mwasa Benard
"Very satisfied with their service. Professional and the report was submitted on time."
Adham Basiouny
"One of the leading advisory and valuation companies in the region."
Jhin Skyworth
"The most outstanding market analysis."
Mwasa Benard
"Very satisfied with their service. Professional and the report was submitted on time."
Adham Basiouny
"One of the leading advisory and valuation companies in the region."
Jhin Skyworth
"The most outstanding market analysis."
Mwasa Benard
Meet the team
Kevin Sidebottom
Managing Director
Kevin has more than 37+ years of experience, combining a strong history of professional business advisory gained working for world-class firms such as KPMG and OC&C Strategy Consultants, with a variety of positions in operational management.
Yousuf Siddiki
Managing Director (CFA, CPA)
Yousuf has over 22+ years of experience in audit, banking, real estate & capital markets and has previously worked with Deloitte, Bank of America, Samba & NCB. He is a CFA charter holder & holds the Guinness World Record for "Youngest CPA in the World."
Khurram Merchant
Managing Director (CFA)
Khurram possesses strong skills in strategy, research, financial modelling and business valuation and has previously worked in Citigroup's Investment Banking Division and also as an equity analyst at Timescape Capital. He is a CFA charter holder and a silver medalist MBA from LUMS.
Kashif Ur Rehman
Director (ACCA)
Kashif has over 20+ years of experience in Financial and Management Consultancy, Transaction Advisory, Audit & Assurance, covering a diverse range of sectors across different geographies. He has worked at various management level positions in organisations including EY, where he spent over 9 years with 4 years as Manager Transaction Advisory Services.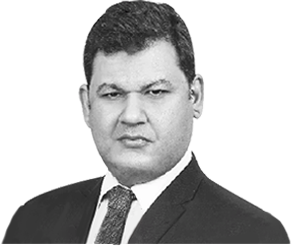 Anum Hasan has an MSc honours degree with a specialisation in Quantitative Research Methods and over 8 years of research experience in multi-disciplinary topics.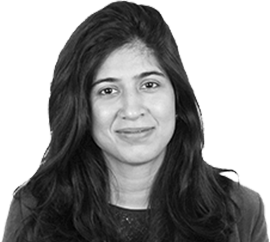 Mustafa Fahim
Manager (CFA)
Mustafa Fahim has six years of experience in Financial Planning, Strategic Advisory, Corporate Finance and Banking. He holds a CFA Charter and a BSc in Accounting and Finance. His expertise spans across diverse sectors including agriculture, real estate, and technology.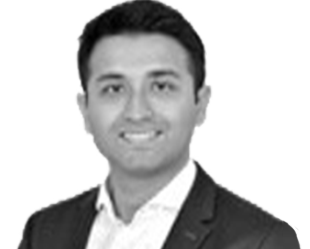 Syed Ali Ahmed has 9+ years of experience in transaction, financial, tech, and real estate advisory. He holds a bachelor's in commerce and a CIMA certification from the UK, and he is well-versed in investment banking and corporate finance and has led numerous transactions across various sectors.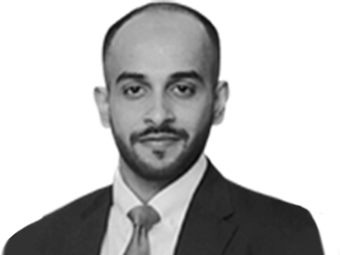 Maaz has an impressive background of over 15 years of diverse experience encompassing advisory, valuations, and corporate finance. He holds qualifications such as ACCA and a CAT certificate, in addition to a BSc (Hons) degree – UK.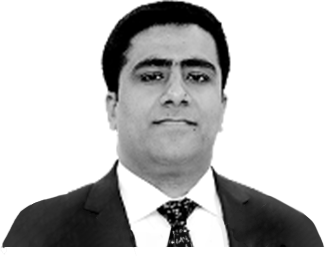 Anita Hakani
Associate (CFA)
Anita Hakani has over 8 years of extensive experience, her expertise encompasses tech advisory, transaction advisory, strategic advisory, and financial advisory. She has also worked with 50+ startups to assist them with fund raising and determine value for their business. She holds a bachelor's degree in business administration and is also a CFA Charter holder.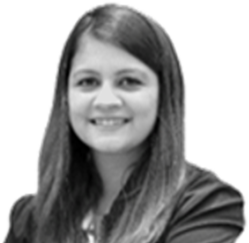 Noman Mazhar, brings over 6 years of experience in Financial Advisory. He specializes in project feasibilities, business case evaluations, and project valuations. Noman holds a Bachelor's in Accounting and Finance, is a CFA Level II candidate, and is a graduate of Harvard Managementor.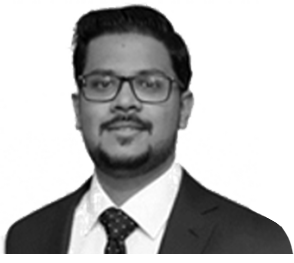 Uzair Shaikh
Associate (ACCA)
Uzair Shaikh has over five years of experience in advisory, equity, and corporate finance. He's executed 100+ projects across various sectors in the GCC region. With ACCA qualifications, he specializes in real estate, finance, logistics, and technology. Uzair has worked with major MNCs and family offices in the GCC region at ValuStrat.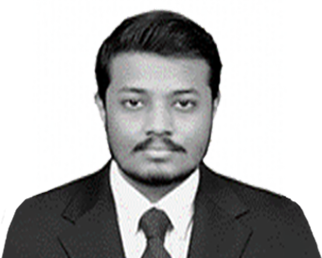 Anoshi Daswani
Analyst (CFA)
Anoshi Daswani has over three years of experience in tech advisory, valuations, and strategic advisory. She holds a CFA charter and a Master's degree, and also brings extensive experience in the oil and gas sector.
Saad Tanveer, an Advisory Analyst, is a CFA Level III candidate with a bachelor's degree in accounting and finance. He brings a wealth of experience in transaction advisory, financial advisory, strategic advisory, management advisory, and investment banking.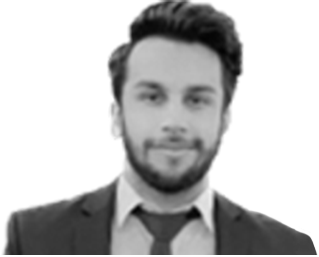 Burhan Mayo, with 5+ years of experience, specializes in investment advisory, research fund management, and business valuations. He holds a Bachelor's degree in Accounting and Finance, has passed CFA Level II, and has worked on diverse projects for the clients in GCC region at ValuStrat.